Our textbook bound - Green in the conservatory, right from the start properly planned
This book is only available on our website.
Production in own publishing
Over 100 photographs
All topics - see below - for professional winter garden greening
All technical details are to be considered BEFORE the construction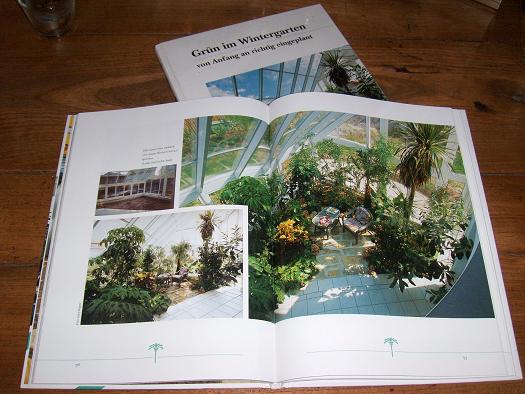 Winter garden greening perfectly planned and executed
Benefit from over 30 years of experience in the
Ornamental plants and conservatory greenery
This textbook contains more than 140 pages with large illustrations and examples of different conservatory solutions and their respective plants and greenery
But no plants are listed but reported on light, climate, heating, glass, Bodenbeete etc. in simple representations what must be observed in winter gardening from the beginning!
To order * country specific D, A, CH
Excerpt from our textbook: Green in the conservatory - planned right from the start
140 pages
Over 50 pictures and examples of indoor greenery (conservatory, but also other)
No listing of plants but what must I consider from the beginning in the planning (see content below)
Bound version from edition 5.000 pcs / There are still about 200 pcs available! As of 2018
Delivery by post / shipping for respective countries included !!
Book price 30,17 € excl. Shipping / The last hardcover books here and now 21,00 € incl. Delivery (D) plus VAT.19%
You can order directly here:
Respective order fields in the shopping cart correspond incl. Shipping to respective countries
plus VAT. D
Please click here
Subjects to the textbook
Subjects to the textbook
Foreword ................................................. ........ page 7
Builders have a hard time ........................... 11
At the beginning is the planning ....................... 15
The conservatory farmer .................................... 17
The glass house construction ............................. 21
The thermal break ................................ 33
The climatic zone ................................................ ....... 35
Tropical or subtropical ............................. 39
The subtropical plant ................................ 45
The tropical plant ....................................... 53
The direction of the compass ....................................... 59
The control ................................................ ..... 63
The `hole` in the ground ........................................ 73
The planter ................................................ .85
The heating system................................................ .......... 91
The shading .............................................. 101
The glass ................................................ ............. 107
The light ................................................ ............ 111
The peculiarity of the palm ....................... 117
Indoor landscaping ..................................... 123
The little paradise ......................................... 131
The Palmenhof Seal / Today Bot.Int ....... 135 (Cover photo)