Frost protection and frost protection cable for exotic plants outdoor / outdoor
Meanwhile, it has spoken around that special palm trees and also figs, olive trees and some other subtropical plants can be well planted in protected locations throughout Germany year round!
A big wintering aid is our antifreeze heat cable
Frost protection cable for plants on offer as follows:
- Super easy to lay or to wind up on the plant
- In root-sensitive plants such as olive trees and palm trees in the soil with insert
- Electric cable length up to 160 m possible !!
- Choose from the standard dimensions or
- Let us tailor to measure
- Ready-to-use heating circuit with integrated thermostat!
- Against surcharge also with CH-plug possible
These anti-freeze cables automatically switch on below + 4 ° C, preventing frost damage to their palm trunks, roots or plant parts.
Precisely tailored to measure:
Example laying of frost protection cable in the ground at an olive tree room Karlsruhe
Ground frost protection cable laid for roots at the olive tree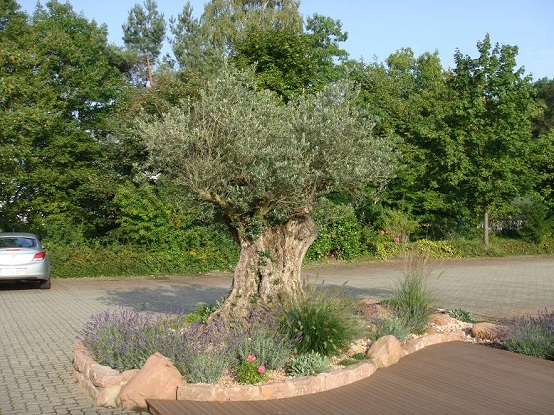 Olive tree outdoors at Karlsruhe with root frost protection
Also important is the classic wind protection against low windshill temperatures!
See here example Pinus Bonsai in Denmark
Temperatures in the middle of the wind and temperatures would be appropriate wind protection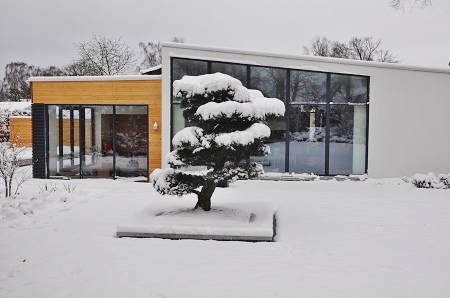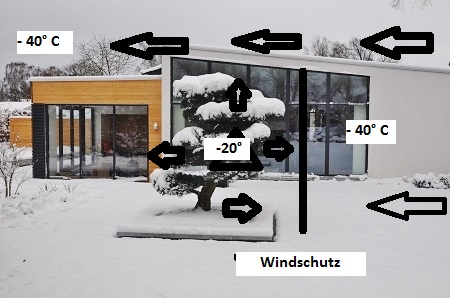 Outside temperature with windbreak - Windchill temperature
And then of course cleverly pack up for the winter
With plants that you buy from us, we give them of course accurate tips on how to perfect the plants
pack for the winter and make sure it is frostproof.
Palm trees or leafy plants from the Mediterranean area
Just packing is not good
You have to pay attention to different tricks
Especially at different times in the deep Winter or in the beginning of spring
Most plants do not freeze directly in cold winter, but are packaged incorrectly and then frozen or rot at 0 ° C in spring.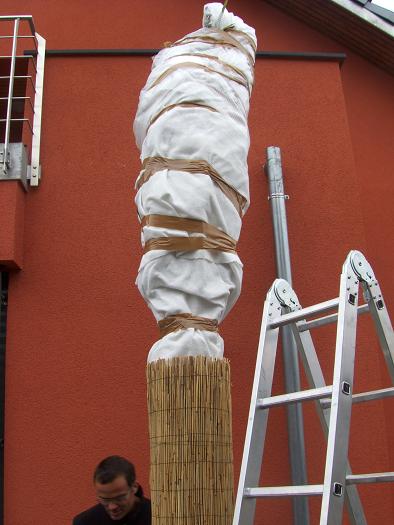 Frost protection cables which you can then use properly used with us
How much frost protection cable, how and where used, how many meters do you need, we will gladly inform you before ordering
Here you can also go for the first custom-made frost protection cable directly into the shop
More DATA and information about the frost protection cable - ask us
More information on wintering grapes in cold regions - ask us
More questions about hibernating exotic outdoor plants - ask us
Contact