The garden bonsai from Japan
Garden Bonsai - Niwaki - Form Bush - Giant Bonsai ..... are referred to as shaped garden plants.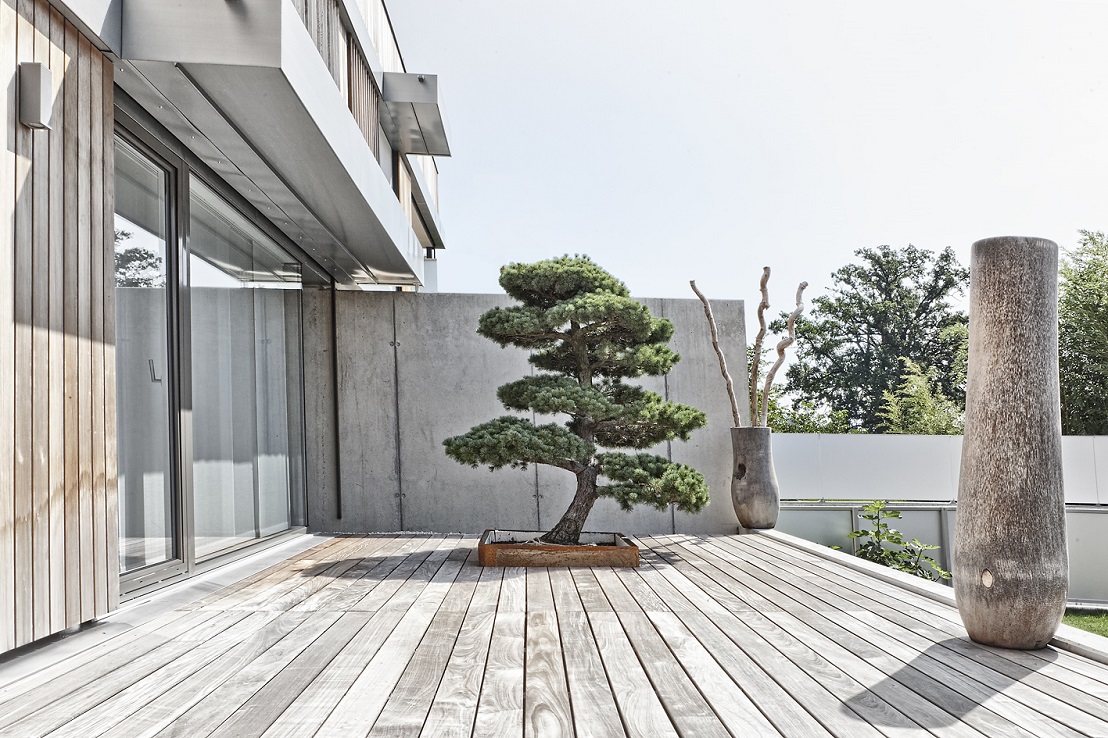 Beautiful Pinus bonsai on the terrace near Bern, Switzerland, planted in a plant bed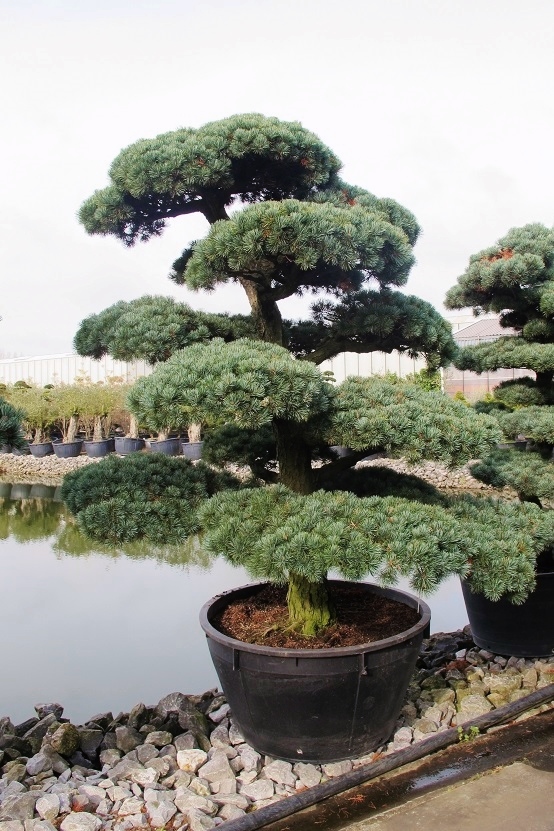 Pinus bonsai grown in the plant container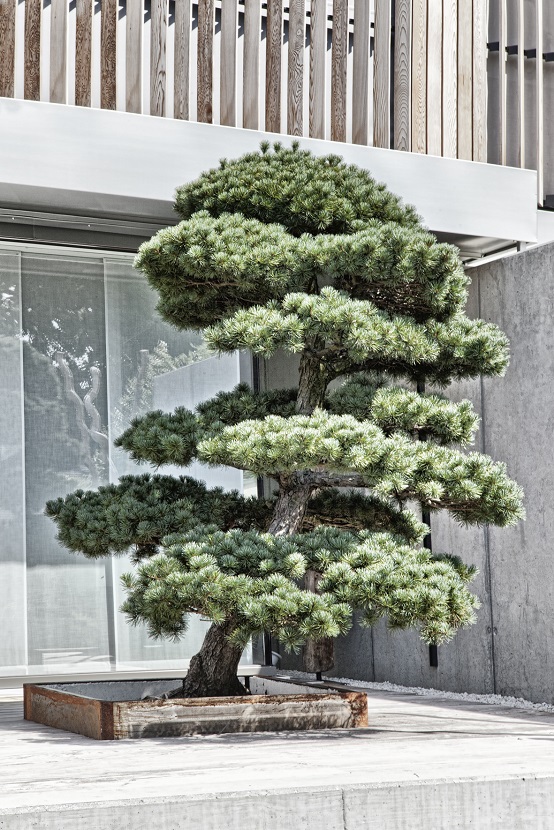 Pinus bonsai planted directly in the planting bed
The Pinus-Niwaki - Pine Bonsai is very resistant and hardly susceptible to pests
Pinus Bonsai here at the delivery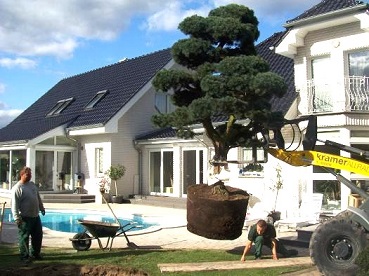 ... a bonsai floats through the garden
... a good preparation is important for a smooth process ...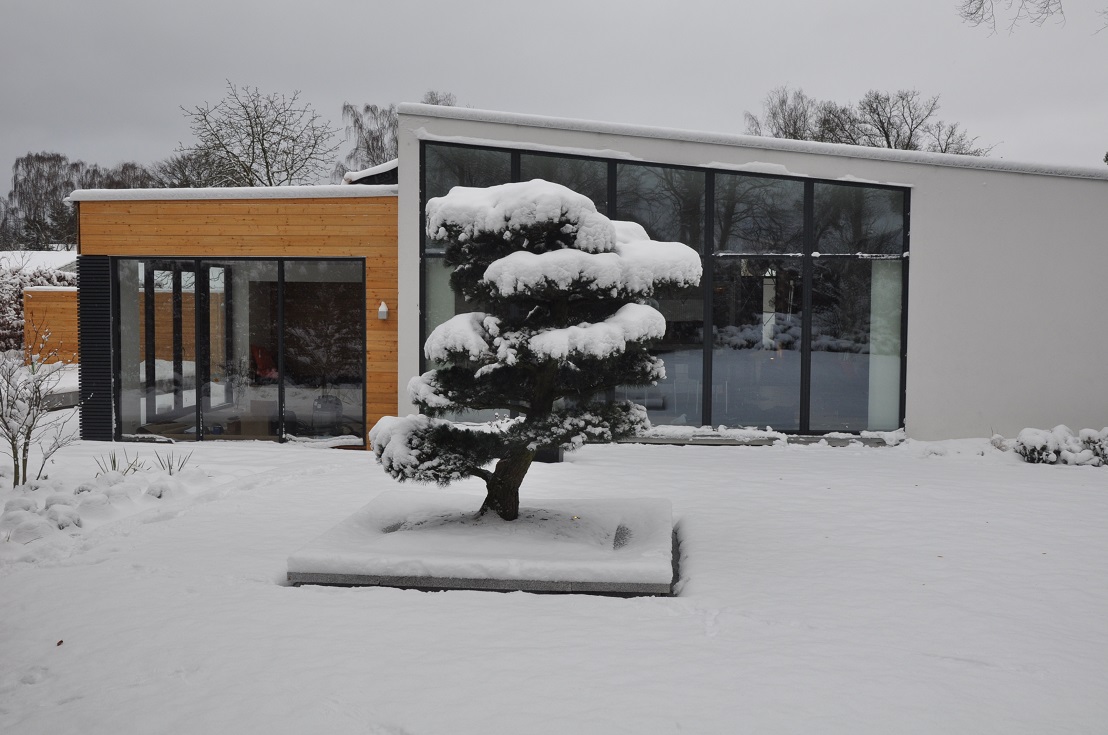 Pinus bonsai an impressive sight even in winter - near Copenhagen - Denmark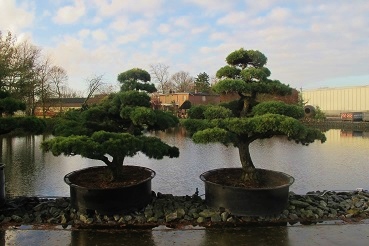 ... a whole avenue with Pinus bonsai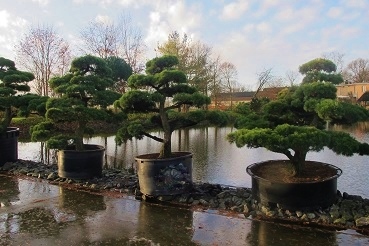 Taxus garden bonsai directly from Japan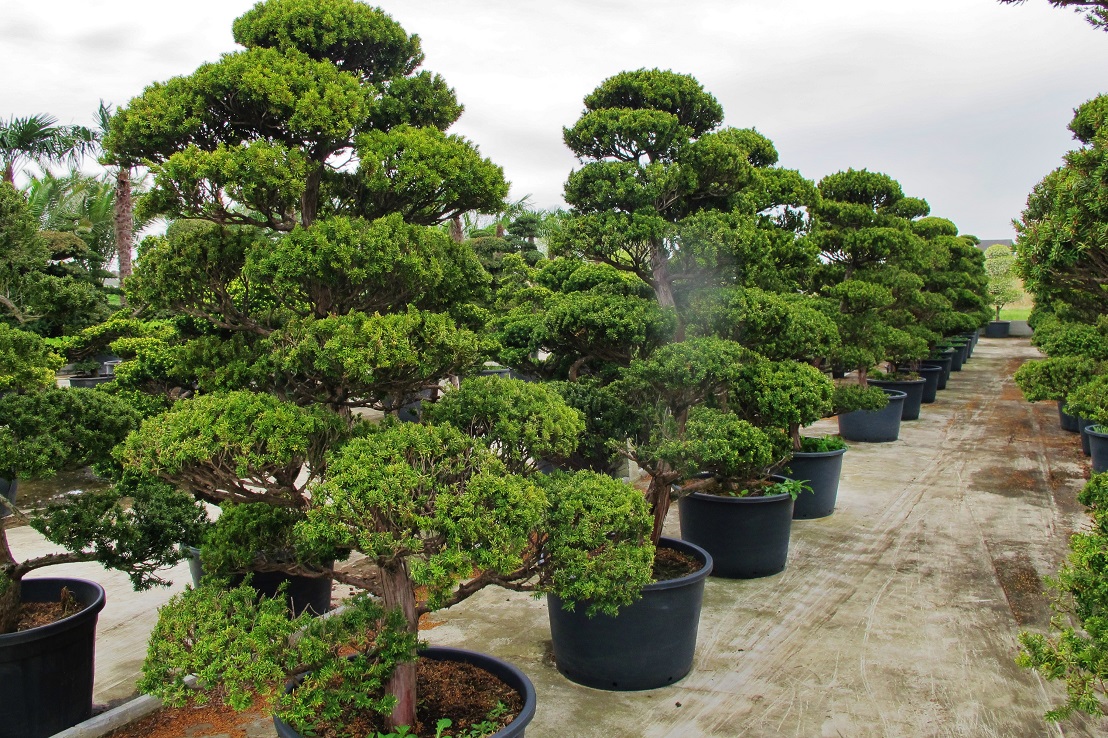 Very nice taxus shaped trees from Japan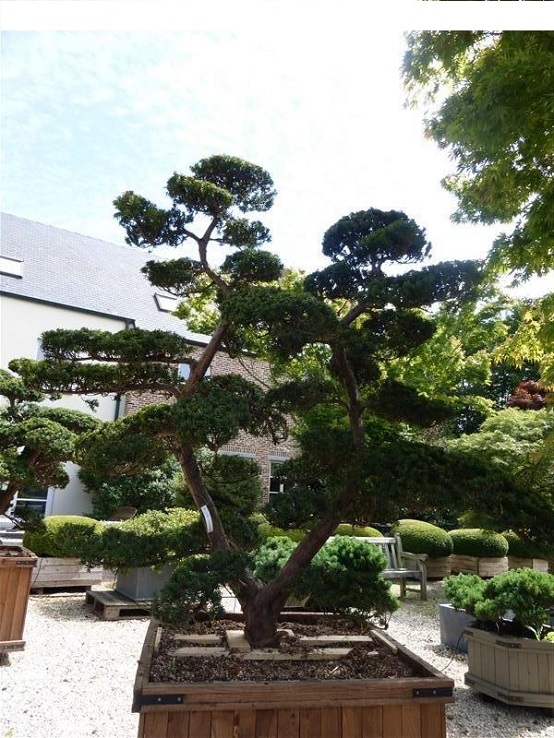 ... beautiful Taxusbonsai with branched trunk
... planted in a wooden planter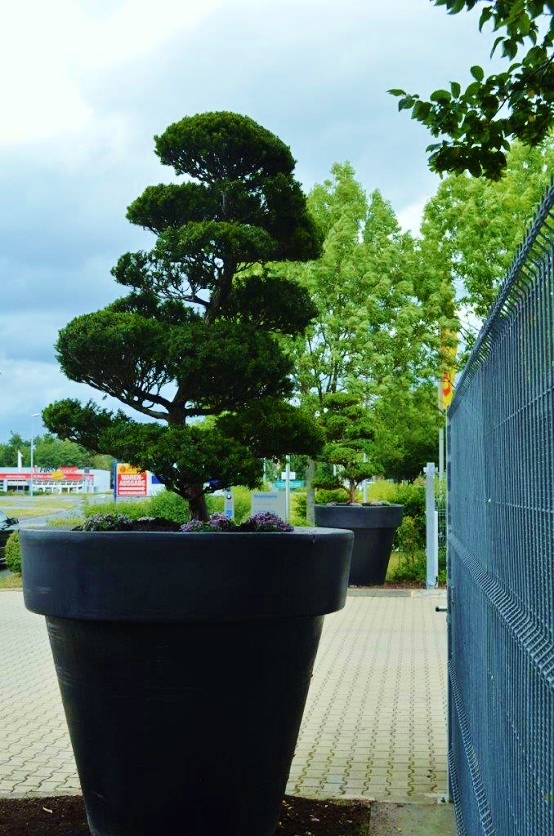 Taxus bonsai in the large planting pot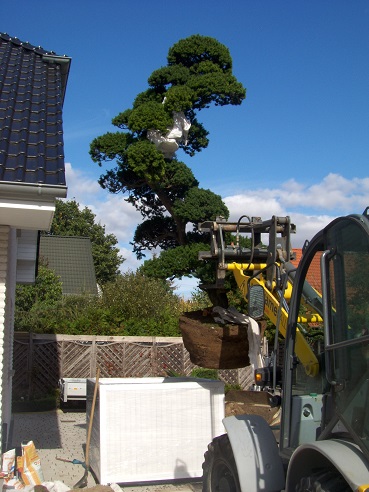 ... the planter is already waiting, it is still covered with the protective film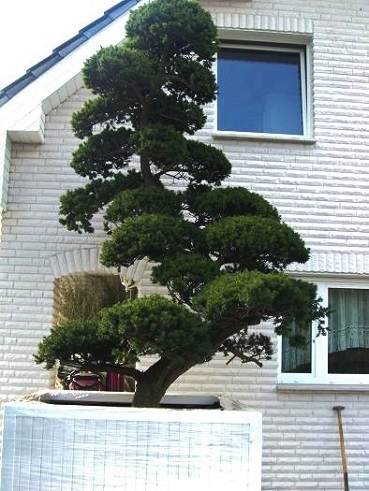 ... and put in it
now he is planted
... the protective film is removed after planting
Juniperus Garden Bonsai - Juniper Bonsai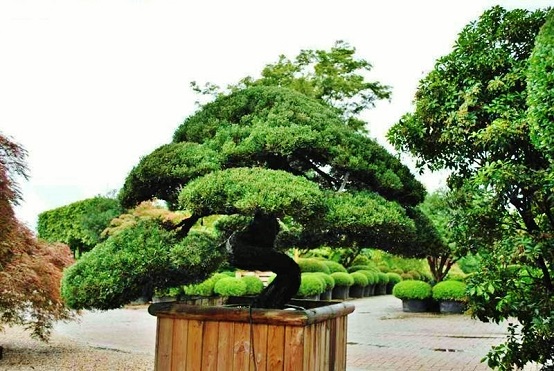 Magnificent juniper bonsai with beautifully curved trunk and ...
... with beautiful clouds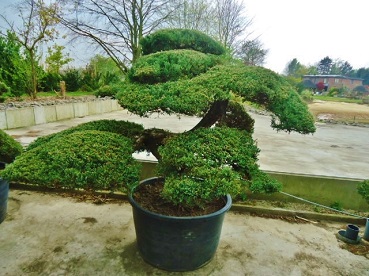 This one has nice sweeping arms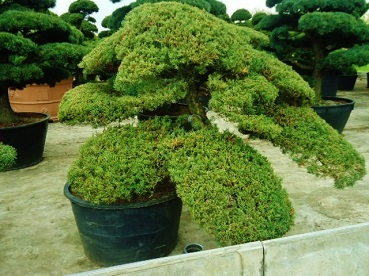 ... elegant shape, like a dancer
Ulmus Garden Bonsai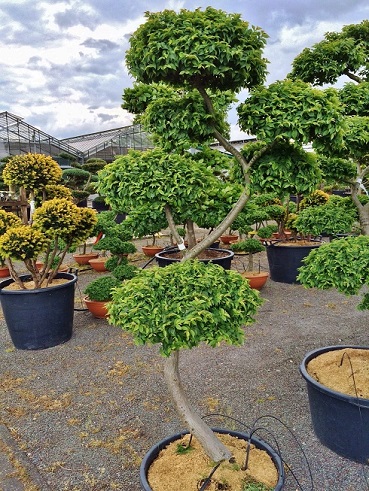 ...beautiful Ulmus Bonsai with leaves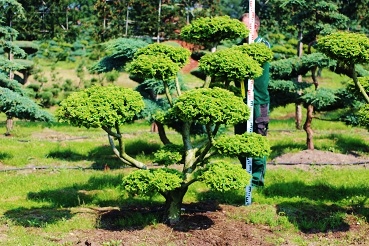 It must be remembered that the Ulmus completely loses its leaves in winter
... he is pretty naked then
A regular pruning is required to maintain its beautiful shape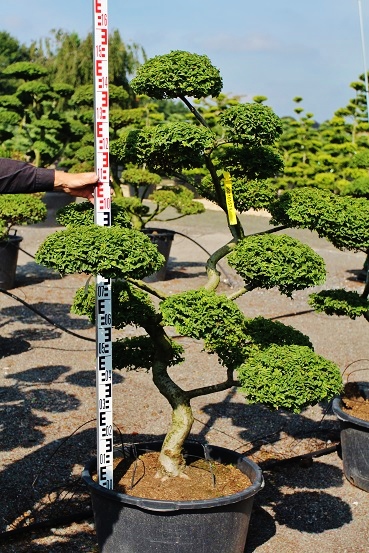 ... with many little clouds
Ilex crenata - Garden bonsai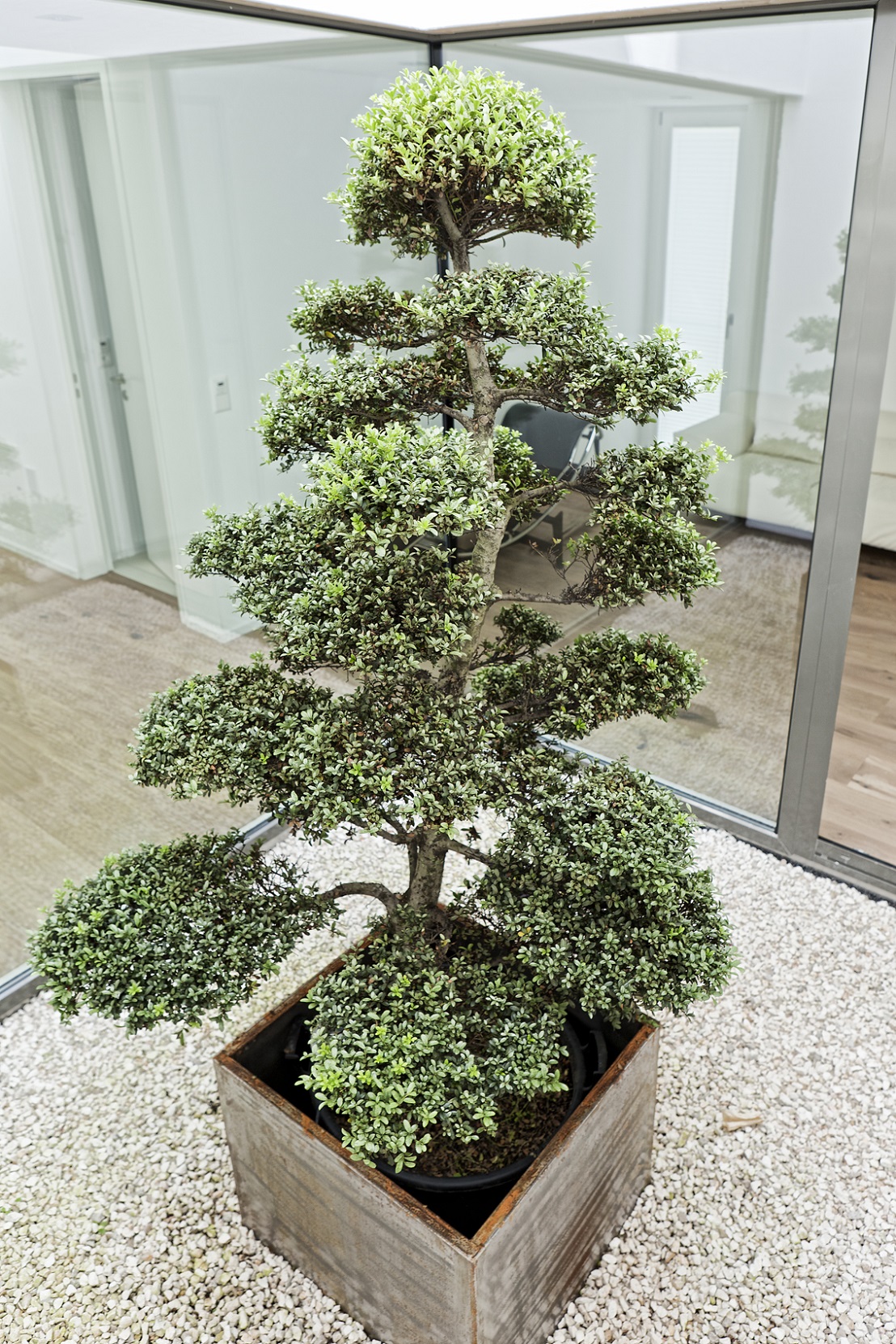 This beautiful Ilex crenata stands well protected in an atrium in Switzerland near Zurich
The Ilex crenata has been an extremely popular bonsai plant for some time. But a few years ago he became very susceptible to fungal attack.
We offer these plants only limited and without any guarantee.
However, if you buy an Ilex crenata, we always recommend to treat the plant with a fungicide for prophylaxis ...
... so that you enjoy your plant for a long time to come.
In the right environment and with good care, the Ilex crenata also thrives.
If it is planted in the container or directly in the strawberry, ensure good drainage.
Ond a cover with bark mulch should be omitted.
This Ilex crenata has a beautifully curved trunk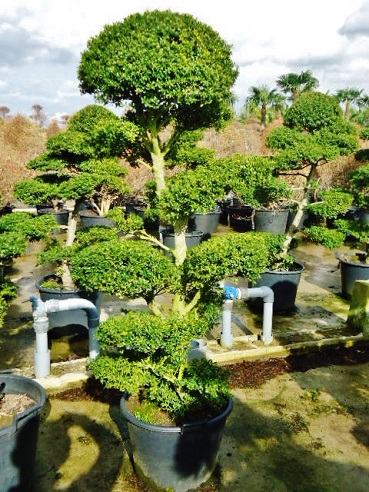 ... this Ilex has a straight growth
... with a narrow shape even for the smallest garden possible
The garden bonsai transport
First, of course, must be a professional delivery!
Then it is ensured that the plant is literally no needle is curved.
Not always an easy task, if just the bonsai shape is particularly aesthetic and unusual.
Alone, the storage in the van must be done absolutely topp. Likewise, it must be considered that loading the plants during loading so that they can be optimally unloaded at the receiving location. What help at our plant locations the best loading tools to load a plant, for example, with overlong special forks, if the customer on site no devices are available that have similar technical requirements !!!
Here, for example, a special transporter was used for delivery, which makes it possible to put the plant on the side of the truck. This is only possible because the roof and the cross brace can be completely removed at the back ...

Next, of course, the unloading forklift driver must have his vehicle properly in the handle. Driving a plant weighing more than 1 ton and with an extraordinary shape and weight through a pinhole of a driveway is not for everyone.
For a plant with a value of several thousand € uro a not unimportant aspect. Once something has broken off and it has already happened!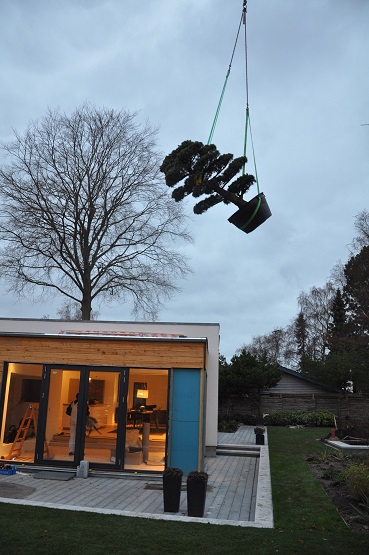 A Pinus is parked with the truck crane at its location
... this pine has a very big plantbale without pot
this must necessarily be secured with a pallet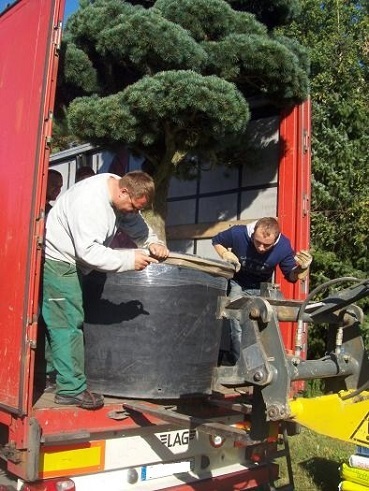 ... the right machines on site guarantee trouble-free unloading
Planting tip - garden bonsai
Especially with a Pinus bonsai, but also most other garden bonsai is a secured water drain, so a good floor drainage is an absolute must.
The fastest dead get them even those old copies with constantly wet feet!
The water does not necessarily have to stand, but only a lasting soil moisture is enough to make the bonsai life difficult.
So it makes sense to mix the soil well sand and prepare just below the plant enough loosened soil.
A high mineral content in the feeding soil is optimal. This mineral soil does not degrade, so it does not cause the plant to sink over time and leaves little room for fungal attack.
Since now logically no or hardly organic material of the plant is available, which would also provide for nutrient supply (at least initially), you must therefore plant the plant.
Here we rely on the proven Oscorna products.
The planting hole should be about one and a half times larger in size, that is 1 to 1.5.
TIP
Biggest poison would be to bring now Bark mulch as cover!
This bark mulch is particularly fungus-forming and can damage the plants very quickly over time.
In most cases, the fungal spores develop very quickly until the plant dies off.